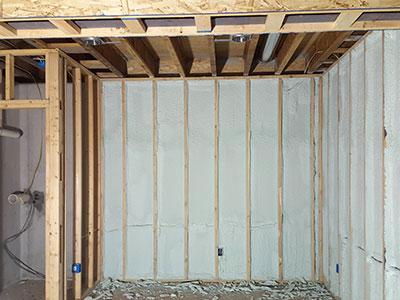 Closed cell spray foam works exceptionally on concrete, block, or rock walls in basements. Many new homes, as well as older homes, do not have any insulation in the basement walls or rim/band joist areas. Often, builders think they do not need to insulate basements since they are below-grade.
For example, during the winter the ground freezes 3-4 feet below the surface. The basement walls can stick out of the ground 1-2 feet above the ground level. So, up to 6 feet of that exterior wall can be exposed to temperatures below 32 degrees. We insulate the above grade walls because of the cold temperatures outside, we also need to insulate the basement walls for the same reasons.
When it gets cold outside, put your hand on the concrete basement walls or use an infrared temperature gun. You will feel the cold being conducted through concrete wall, making your home cold. In turn, your furnace works harder costing you more money. Open cell spray foam is a fantastic product to seal and insulate the rim/band joist areas. It is very difficult to cut and install fiberglass insulation in these areas. By using open cell spray foam, we can custom fit every cavity, stopping them from leaking cold air into your home.