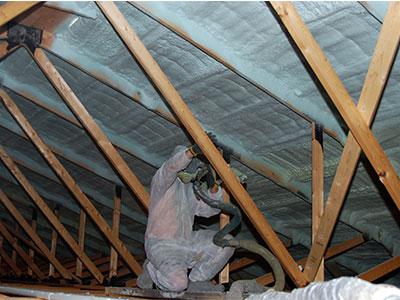 Pole barns, post-framed buildings, or metal-framed buildings have always been a difficult area to insulate - that is until spray foam insulation came along.
Most pole barn buildings have metal sheeting that has an overlap ever three feet or so. This allows for air to pass into the building quite easily. sealing the pole barn up with spray foam insulation keeps the air or wind from getting into the building. Also, metal conducts temperature quite easily and quickly. They are also known for condensation on the roof underside. The warm, moist air rises up and hits the cold metal surface resulting in condensation. Then, the roof underside starts to drip on you and the contents of the building. To say the least, this can be quite annoying.
When installing spray foam insulation on a roof underside, it effectively prevents the warm moist air from reaching the surface. An example of this is a plastic soda cup and a foam soda cup from a convenience store. If you fill up both ups with soda and ice and place them outside during the summer, which one gets condensation on the outside of the cup? The plastic, of course!
We have applied spray foam in hundreds of pole barns. We often get asked which type of spray foam works best for pole barns, whether it's closed or open cell. The answer is both! Depending, of course, on the use of the building. Open cell spray foam works well when covered up behind steel sheeting or plywood to protect it. Closed cell spray foam works well in high-moisture applications such as livestock buildings or truck washes. Our trained salespersons can help you to choose the correct product for your project.