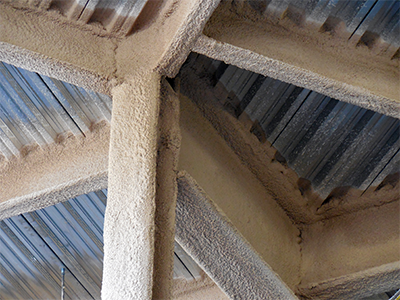 Fireproofing is very important part of any building. Fireproof ratings usually come in hourly ratings, such as 1, 2, 3 or even 4-hour ratings. What this means is the fire proofing material must protect the building materials for the given hour rating to provide safe egress and allow the Firemen time to get people out of the building safely. The hourly rating depends on many factors such as, height of the building, use of the building, and how close the building is to other buildings.
Fireproofing is commonly found on structural steel framing, columns, beams and floor decking. Keep in mind steel framing can lose over half its strength once it reaches 1000 degrees. Think about all the weight of the building above it pushing down on the steel frame when it loses it strength.
There are two main types of Fireproofing material: Spray-Applied Fire Resistive Materials (SFRM) and Intumescent Fire Resistive Materials (IFRM).
SFRM's are usually cementitious materials made from Portland cement or gypsum base materials. The SFRM's are mixed with water and spray applied to the surface. Thickness can depend on they surface applied to and the desired hour rating of the surface. They are generally the most cost effect fire proofing materials.
IFRM's are liquid intumescent coatings. They are commonly referred to as paints, but they are not paints. They are high solids coatings designed to char up when heat is applied, insulating the surface from the heat. Have you seen the fire works snakes you light up and they char or grow? That is the basic principal to the charring of IFRM's. IFRM's are sprayed into place with special high volume airless sprayers. They are installed to certain mil thickness in accordance with the hourly rating. Some IFRM's could be installed to over 500 mils thick. To put this in perspective, normal copy paper is about 8 mils thick. You will generally see IFRM's in lobbies or atriums of commercial buildings where the structural steel is exposed for aesthetics.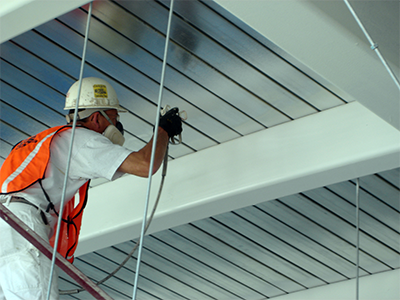 KC Spray Foam and Coatings is a member of National Fireproofing Contractors Association and are applicators are factory trained by Carboline, one of the largest and most respected fire proofing manufactures in the industry.
KC Spray Foam can handle large multi-story fire proofing jobs to small, repair patching jobs.
Per code, building owners must inspect fireproofing yearly. Give us a call and we can inspect your project and keep you in compliance.