Residential Garage Spray Foam Insulation in Kansas City
When it comes to garages, many do not have insulation at all, and most builders cut costs by not adding garage insulation when a home is initially built. However, garage insulation can be incredibly beneficial and should not be overlooked. At KC Spray Foam & Coatings, LLC, our insulation experts understand the importance of garage insulation and are proud to provide our customers with quality garage spray foam insulation services.
The Importance of Garage Insulation
For many homeowners throughout the Kansas City metro area, the garage is used quite often, not just as a space to park cars, but also as a workshop, a storage space, a temporary office, or even as a home gym. In order to get the most out of your garage and continue using the space throughout the entire year, garage insulation is essential. By adding spray foam insulation to your garage, you will keep your garage and house at comfortable temperature levels year-round and ensure you enter a warmer car on those freezing winter days.
Why Use Spray Foam Insulation in Garages?
Bonus room or bedroom floors above garages are typically insulated with fiberglass insulation. Unfortunately, fiberglass does a poor job of keeping those floors warm. When the first cold front comes, our insulation experts at KC Spray Foam & Coatings, LLC get many calls each fall about these cold floors. In some cases, we see frozen pipes in these floors due to the poor performance of fiberglass insulation. Since spray foam is both an insulation and an air seal, it works far better in these areas.
Insulating a garage with spray foam will keep it warm, and in most cases keep it above freezing without the need for a furnace or a heat source. Wouldn't it be nice to get into a car that is 50-60 degrees rather than a car that was in a garage well below 32 degrees?
Benefits of Garage Spray Foam Insulation
In addition to keeping your garage usable and at a comfortable temperature all year long, garage spray foam insulation also comes with many other benefits including:
Increased Energy Efficiency
Garage insulation helps to prevent heat from escaping during the winter and hot air from entering throughout warmer temperatures. This leads to increased energy efficiency by reducing the amount of energy needed to heat and cool your home, lowering your home energy bills in the process.
Protection of Personal Items
An uninsulated garage can result in damage to your car or other personal items you keep in the space. Adding spray foam insulation to your garage can help prevent high levels of humidity and extreme temperatures, keeping your car and other belongings protected.
Noise Reduction
If you live on a busy street or use your garage as a workshop or practice space, much of the noise from within your garage and outside will filter into your home if your garage is left uninsulated. Adding garage insulation helps to filter out this noise, resulting in a quieter, more peaceful home.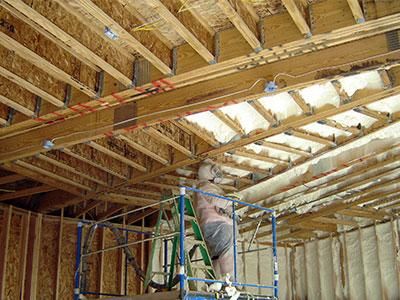 Contact Our Garage Insulation Experts
At KC Spray Foam & Coatings, LLC, our spray foam insulation technicians are proud to offer quality insulation services to our customers throughout the Kansas City metro area. To learn more about our garage insulation services, contact us today!
FAQs About Garage Spray Foam Insulation