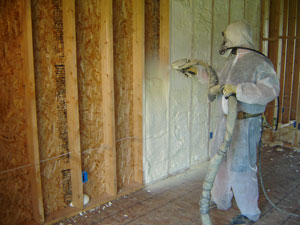 Because of its high efficiency, spray foam has become more popular in recent years. KC Spray Foam offers both major types of polyurethane spray foam - open cell and closed cell. While both open cell and closed cell spray foams are great choices, there are some key differences between the two.
Open Cell Spray Foam Kansas City
This low density spray foam is 1/2 pound per cubic foot, water blown and much more sponge-like in appearance than closed cell spray foam. Because the cells are open, it works by trapping the air inside the foam which insulates the air seal. This is a very good barrier against air and sound, but does not provide much protection against water vapor. For this reason, open cell spray foam is recommended for indoor use only.