2 minutes reading time
(399 words)
Partnering for Education and Energy Efficiency
Demand for increased energy efficiency is reflected in the most-recent (2012) revision of the International Energy Conservation Code. Stricter energy performance requirements will require, among other things, additional insulation. As more municipalities are moving in this direction, we are in a position to provide education on building science in relation to current building codes and energy efficiency standards.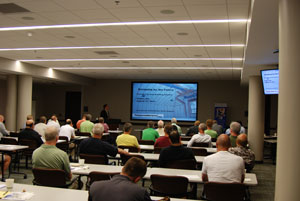 Earlier this week, we had the chance to partner with Steinwart Sales Corp. for a training presentation titled Building Science and Codes in conjunction with the Johnson County Contractor Licensing Program. Change can bring about confusion, so we were fortunate to have this opportunity to work with our manufacturer, Icynene, to help local contractors and inspectors understand the changing codes and how they apply to our region.
The objective of this course was to demonstrate how performance criteria can help build a better and more comfortable building while meeting the performance criteria in the 2012 International Residential Code. Through presentations by Randy Nicklas, a mechanical engineer with Icynene from Columbia, S.C., who concentrates on advanced building technologies through applied building science and sustainable construction materials, and Lewis Cooley, an HVAC consultant with Icynene in Simpsonville, S.C., we covered building science, insulation system effectiveness, building envelope considerations, light density, and thermal and ignition barrier requirements.
We are proud of the efficiencies (and savings!) we are able to pass along to our customers through spray foam installations. This chart can provide you with a snapshot of how our open cell spray foam reduces heat flow. To see how well our closed cell spray foam stacks up, check out this chart. The reduction of heat loss you see in these examples will put money back in your pocket from energy savings right away. How much will vary based on factors like your building design and HVAC usage.
Want to learn more? If you're in the industry, we're scheduled to present an extended version of this training during the Johnson County Contractor Licensing Fall 2013 Education Conference Oct. 30 at the Overland Park Convention Center. KC Spray Foam & Coatings will also host a booth throughout the show Oct. 28-Nov. 1. Come meet us and see how our technology can improve your energy efficiency!
If you are building a home, getting ready to renovate or just want to learn how your home or business can benefit from spray foam insulation, give us a call at (913) 440‑9123.