2 minutes reading time
(416 words)
Spray Foam vs Regular Insulation
In the past, spray foam was never even in the choices for insulating your home. It was always between fiberglass or cellulose. For a long time, there was never any big improvements in the insulation industry, but now we have spray foam at our disposal to help out. In many homes or businesses that have the old methods of insulating with fiberglass or cellulose, there are many complaints for high utility bills. These methods may help insulate your house to a point, but they allow too much airflow through the insulation to truly make a difference. It isn't worth all the high utility bill rates coming in every month from bad insulation. With spray foam, the insulation process is much better and you will see the proof in your utility bills each month. KC Spray Foam offers multiple spray foam in Kansas City solutions to meet your needs and budget.
Spray Foam Kansas City Solutions
At KC Spray Foam & Coatings we can provide you with spray foam that is worth every penny. It is true that spray foam does cost more than the traditional methods, but it pays for itself by saving you money on your utility bills each month. There are many benefits that come along with using spray foam.
Cut monthly air conditioning/heating costs up to 60%
Improves indoor air quality (reduces allergy & asthma attacks)
Helps homes and businesses become much quieter
Does not support or spread flame
Kills mold on contact and reduces future mold growth
Not a food source for mold, roaches, or termites
Not damaged by water or floods
Does not settle or pack down over time
Will not sag or split as it ages
Does not allow air loss or air infiltration into your home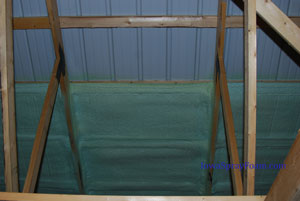 These benefits from having spray foam for your home's insulation speak for themselves. When you choose this for your home, you will be glad that you chose the spray foam. There are some things in your construction that you can use the lower grade materials for in your home, but insulation is not one of them. Make sure that you have a proper spray foam contractor for your home. Our contractors at KC Spray Foam & Coatings are trusted professionals who will get the job done with your satisfaction. It isn't worth the high utility bills to have cheap insulation. Contact us today, so we can give you a free estimate and find the right spray foam in Kansas City solution for you!