3 minutes reading time
(571 words)
Your Energy Bill and Your Attic - How they Correlate
If you live in Kansas City, you probably are aware of the fluctuating temperatures, hot summers, and frigid winters. It can be difficult trying to keep your home cool during hot summer months. As a result, you may notice a spike in your cooling bill. If you are looking for solutions to save money and preserve energy, attic insulation is the key. Insulation is not a DIY project and should be installed by a professional. At KC Spray Foam our team of experts are highly trained and certified to identify the source of your air leaks and provide the best insulation for your home. We are based in Kansas City and provide insulation services for the surrounding areas.
Since 40% of air leaks occur in the attic, make sure you seal all air leaks. Water is insulation's culprit which causes mold and mildew growth, structural damage, wasted energy, and threatens the air quality of your home. Check for common holes in the ceiling that occur in the following:
Fans
Light fixtures
Vents
Wiring
Pull-down steps
Duct work
Attic Insulation for Your Kansas City Home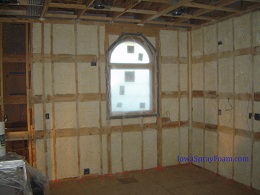 At KC Spray Foam, we use the latest insulation technology on the market. Our material consists of closed and open cell spray foam. Both types are great for attic insulation and detracts dust particles. They offer the following benefits:
Environmentally friendly - Our spray foam contains non toxic gases that are used or released during the process.
Flexibility - Can be applied to new construction areas, agricultural buildings, remodels, and more.
Less expensive - Cheaper than closed spray foam.
Better coverage - It expands and fills large areas.
Versatile - Can be applied to ceilings, attics, walls, basements, and much more.
Light Weight - Traps air inside the foam material by creating an airtight seal to block air drafts.
Suitable for indoor use
Sound proof
Versatile - Can be applied indoors and outdoors
Water resistant - Works as an air sealant and vapor barrier
Hard and strong - Higher R-value 6 per inch
Provides structural reinforcement
More expensive option compared to open cell spray foam
Less dense than open cell, therefore, it creates a tight seal that acts as a vapor barrier
Both open and closed cell spray foams offer numerous benefits for attic insulation, guard against air leaks, and eliminate mold growth. They also provide total insulation coverage to accommodate seasonal shifting.
Why Choose KC Spray Foam for Attic Insulation?
Be prepared for summer in Kansas City by hiring KC Spray Foam today. We'll help you save money on your cooling bill by applying spray foam in your attic. Our experts are chosen over leading competitors because we provide the following incentives:
Our employees are skilled, trained, and certified for application techniques.
Our experts comply to all safety standards.
For spray foam cost estimates, we provide a online savings calculator.
We provide consultations and free estimates.
We use the latest material in the insulation industry.
For superb and professional service, contact KC Spray Foam today! We'll make sure your home is prepared for the hot summer months in Kansas City. We'll make your home energy efficient and reduce your cooling bill. Our closed and open cell spray foam will seal air leaks to keep your home comfortable and dry. We service the states of Kansas and Missouri. Contact us for a free estimate. We are here for you!