4 minutes reading time
(802 words)
Where to use Spray Foam
The Benefits of Spray Foam in Kansas City are Endless
Years ago, traditional fiberglass was only available in the insulation industry. Thanks to advancing technology, today many homeowners know have the option of using spray foam over fiberglass. Spray foam has become extremely popular due to its numerous benefits. Unlike fiberglass, spray foam creates an air barrier by sealing cracks and voids. At KC Spray Foam, we offer both closed and open cell spray foam to make your home more energy efficient and reduce your utility bills. Our spray foam can be applied in attics, ceilings, crawlspaces, garages, basements, and more. Our team of experts are trained and certified to determine the best insulation solution for your Kansas City home.
Attic Insulation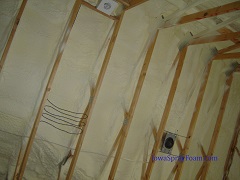 If you live in a warm climate, you probably know the struggles of maintaining a cool home. Cooling your home can become expensive. KC Spray offers the perfect solution so you can save money every month. We offer attic insulation by applying spray foam. First, our team of experts will locate any air leakage, then seal them. Common holes are usually found around vents, light fixtures, fans, and air ducts. By sealing voids and cracks, we can preserve air before spray foam installation. We offer both closed and open cell spray foam depending on your insulation needs. Open cell spray traps air inside its foam and creates an airtight seal. Closed cell uses a blowing agent, called hydrofluoro-carbon, to trap the blowing agent in the cells and provide insulation.
If your home has vented attic space, spray foam can be applied on the attic floors. And for non-vented attics, spray foam is applied directly to underside of the roof and between the joists. Our experienced staff are trained to do the job right and determine the best option for your attic. We know the best spray foam method for your attic.
Basement Insulation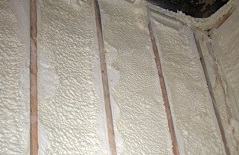 Basement insulation offers many benefits. Insulation makes your home energy efficient and lower energy costs. Since basements are built down below, they keep your home cool especially during winter months. By insulating your basement walls, it creates an airtight seal to trap heat in your basement. It also guards against moisture and prevents wood rot. Insulated basements protects your home's foundation from thawing ice and melting snow. For basement insulation services, contact KC Spray Foam today. We know how to keep your home warm during winter.
Ceiling Insulation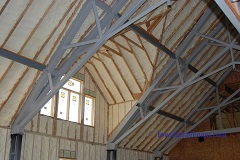 If your home doesn't have ceiling insulation, contact KC Spray Foam. Ceiling insulation can be applied to new or old homes without insulation. At KC Spray Foam, we use open and closed spray foam to seal air pockets and drafts. Without ceiling insulation, exposed floor boards causes wasted energy and air drafts. Ceiling insulation offers the following benefits:
Retains heat during winter and cool air in the summers
Reduces heating and cooling bills
Keeps your family comfortable and dry
Increases your home's value
Improves energy efficiency
Doesn't attract a nesting area for rodents and pests
Crawlspace Insulation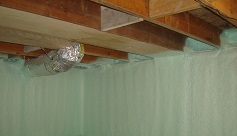 Are you constantly adjusting your thermostat, but your home remains the same temperature? Your crawlspace might be the culprit. Your home's crawlspace plays a vital role when it comes to preserving energy in your home. If your crawlspace doesn't have insulation, hire KC Spray Foam to install spray foam. This will create a barrier to guard against moisture and air. Crawlspace insulation offers the following benefits:
Reduces outside air infiltration
Reduces allergens by improving the air quality in your ventilation system
Lowers your utilities
Prevents pests from entering your crawlspace
Guards against moisture, humidity, and water
Garage Insulation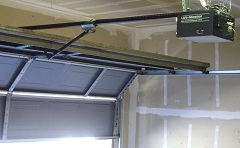 Garage insulation may be unheard of, but it is actually effective. Garages are not only a place for storing cars, they have become additional living spaces for bedrooms and recreational rooms. If your garage is unheated, it is still a good idea to insulate your garage. KC Spray Foam can insulate your garage door to block the entrance of critters and prevent moisture damage. Our experts can insulate attached garages, stand-alone garages, and garage doors.
Why Choose KC Spray Foam in Kansas City?
For quality insulation, contact KC Spray Foam today. We offer effective solutions for the residents in Kansas City and the surrounding areas. Our team can insulate your garage, attic, basement, ceiling, and crawlspace. Our spray foam is designed to:
Improve the structural strength
Fill-in any size gaps and voids
Block air drafts and condensation
Reduce indoor noise
Guard against moisture and water
Improve air quality
Increase energy efficiency
Reduce cooling and heating utilities
Insulate residential homes as well as commercial buildings
If you are looking for ways to preserve energy, give us call. Our team of experts will assess your home and determine the best insulation technique for your needs. We service Kansas City and the surrounding areas. Contact us today!