3 minutes reading time
(593 words)
Meet Daryn: Sales, KC Spray Foam
Meet our Experienced Staff at KC Spray Foam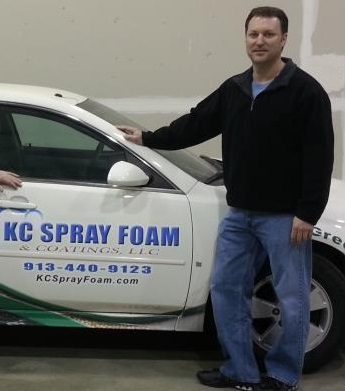 This year marks the one year anniversary of KC Spray Foam - and what a year it's been! Over the past year, we have established a presence in the Kansas City market, and a lot of our success can be attributed to Daryn Britton, who handles sales for this location.
Daryn has been with the company since our first month of business. Daryn holds a Business Management degree from Kansas State University, and previously worked in sales/sales management roles throughout the construction industry. His construction background, in particular, has served him well in his role at KC Spray Foam.
"My construction background benefits me greatly in my current position because I understand building science and the anatomy of a home," Daryn explained. "It helps me understand how a house performs so that when I'm talking to our customers I can explain the benefits of spray foam insulation in a way that makes sense to them."
The company's extensive training program, combined with business knowledge, made the transition to the spray foam business an easy one for Daryn. He runs the day-to-day operations of our Kansas City location, including setting up installations, quoting and developing new accounts. Daryn is also invested in networking to support company growth.
Our company is committed to being the experts on spray foam insulation, and Daryn notes the specific importance of this in the Kansas City market. "In this market, our primary competition is insulation contractors," Daryn said. "We truly understand what we do from the spray foam side of the world. However, insulation contractors don't really have that same level of understanding and don't do enough spray foam to be experts."
KC Spray Foam: Your Leading Provider of Quality Insulation
KC Spray Foam technicians are the industry experts in the Kansas City market. We pride ourselves on our thoroughness. "Many times when we quote against competitors our bids will be quite a bit more," Daryn explained. "But when we sit down and compare them with the potential customer that's often because the other company didn't quote the entire job based on what the customer wants." Through this, KC Spray Foam often ends up being the fairest price and we bring a lot of value with our building science education.
"We take a consulting educational approach to the business," Daryn added. "It is easier to do spray foam wrong than it is right because you're mixing chemicals. We really are the technicians on site and our customers can rest assured they are going to get a quality installation because of that."
Daryn is out in the field every day educating customers and potential customers about the benefits of spray foam insulation. "In a previous job, I had a 21-state territory," Daryn said. "The fact that I have the freedom to be out interacting with customers every day and still be home every night with my family is something about this job I really value."
Daryn lives in Gardner with his wife, Whitney, two daughters, Shelby (18) and Lynsie (14), and his stepson, Grant (17). You can reach Daryn at (913) 440-9123 or at This email address is being protected from spambots. You need JavaScript enabled to view it. to discuss your spray foam needs!