3 minutes reading time
(534 words)
Save Money with Spray Foam Insulation this Summer
Spray Foam Insulation will Save you Money
Your energy bills may be unnecessarily high due to air leaks, gaps and holes. This can be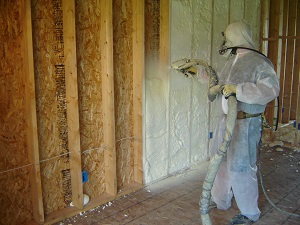 prevented by using spray foam insulation by KC Spray Foam. Our spray foam is both an insulation, air sealant and air barrier. By closing and sealing the leaks, gaps and holes, you can save up to 20% on your monthly energy bills.
Spray foam insulation can help reduce the workload on your HVAC system. It has a high R-value and effectiveness. KC Spray Foam offers both open and closed cell foam insulation.
Open cell spray foam insulation - Open cell spray foam relies on trapping the air inside of the foam which then insulates the air seal. With open cell spray foam, the blowing agent is water. This open cell spray foam has no toxic gases used or released in the process. Open cell spray foam is used indoors only. This type of spray foam works well in new construction, remodels, agricultural buildings and commercial buildings. This open cell spray foam is a semi-rigid 1/2 pound per cubic foot and is low density.
Closed cell spray foam insulation - Closed cell spray foam insulation can be used outdoors as opposed to open cell spray foam insulation. It is a medium density foam which uses hydroflouro-carbon as the blowing agent. It does not contain volatile organic compounds. Closed cell spray foam insulation is rigid and is 2 pounds of foam per cubic foot. With this closed cell process, the blowing agent is trapped inside the closed cells which helps increase the R-value of the foam.
Spray Foam Insulation as an Air Sealant
Some of the more common places for air leaks are:
Wiring holes
Plumbing vents
Open soffits
Attic hatches
Behind knee walls
Furnace flue
Recessed lights
Basement rim joists, windows and doors
Our spray foam insulation will seal any of these holes and gaps. This will save you monthly on your energy bills.
KC Spray Foam uses the best products available. These products include Sealection500 and Heatlok Soy 200. We have teamed up with the leading suppliers of the best products available in the industry. We have factory certified professionals that has the experience and training to get your residential or commercial insulation done and keep your home or business energy efficient for many years to come.
KC Spray Foam also offers roof coatings using polyurea and a closed cell roofing spray foam. These products work well on flat or sloped roofs by sealing joints, seams and gaps. This roof coating will insulate and protect your roof from damage for many years.
Don't let gaps and holes leave your home or business with high energy bills and let valuable resources go to waste. Let KC Spray Foam give you a free estimate on our spray foam insulation today.
KC Spray Foam & Coatings, LLC was established in 2013 and located in Olathe, Kansas. We serve both Kansas and Missouri. We are a sister company of the national known Iowa Spray Foam Insulators, LLC which was established in 2006. We have the experience and resources of this sister company.
Contact us today for all of your spray foam insulation needs in Kansas and Missouri.