2 minutes reading time
(301 words)
Building Insulation in Kansas City
Building Insulation
KC Spray Foam in Olathe, KS is a nationally known building insulation company. Spray foam insulation is the best way to save on energy costs. We offer both open and closed cell spray foam insulation for your building insulation in Kansas City. The benefits of spray foam insulation are:
Improves home's energy efficiency
Heating and cooling savings
Adds resale value to your home
Reduces the amount of allergens and pollutants entering your home
Reduces moisture entering your home
Keeps you and your family comfortable all year round
Reduces the risk of drafts
Minimizes noise from external sources and noise from within your home
Adds structural integrity to your home.
Spray Foam Insulation for Building Insulation
Open Cell Insulation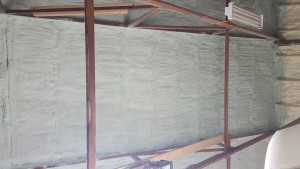 Open cell spray foam insulation is semi-rigid and is half pound per cubic foot and is low density. It is a water blown foam and is designed to be used indoors only. With the cells being open, it relies on trapping the air inside of the foam which then insulates the air seal.
Closed Cell Insulation
Closed cell insulation foam is rigid and is 2 pounds per cubic foot. When the closed cell insulation is sprayed, the two part liquid expands about 30 to 40 times in a matter of seconds. Closed cell spray foam can be used both indoors and outdoors. It also creates an air seal. The tensile strength of closed cell spray foam is 25 pounds per square inch.
KC Spray Foam employees go through an industry leading in-house training program to educate them in product knowledge, advance application techniques, building science, and safety standards. This training gives the customer an educated, highly skilled professional to get the job done right.
For all of your building insulation needs in Kansas City, contact the professionals at KC Spray Foam.