2 minutes reading time
(385 words)
The Best Bang for Your Buck
The Best Bang for Your Buck: Value and Insulation
As the Polar Vortex blasted in this week, many of you may be thinking about adding or replacing insulation in your homes. This will benefit you by keeping your homes warmer and lowering utility costs. Don't let this be you:
Where to Start
There are many areas in your home that can benefit greatly from spray foam including, but not limited to, crawl spaces, attics, basements, and bonus rooms. Insulating crawl spaces can do many things for you, such as: keeping the floor you walk on warm, preventing pipes from freezing and bursting, and keeping duct work inside the thermal envelope. As a general rule, we would suggest this as the first area to insulate to get the best bang for your buck. To learn more about crawl space insulation, visit this previous blog.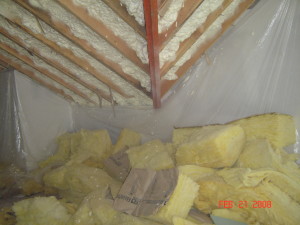 Attics are the next area we suggest to insulate. Typically, heat rises and when you have poor or even no insulation in an attic you will see fast payback for your dollar. It still amazes me how many attics we look at that have very little to no insulation in them. Depending on what is in your attic, we can vacuum out the old, dirty insulation and we can install new spray foam. Spray foam can also help with ice damming problems.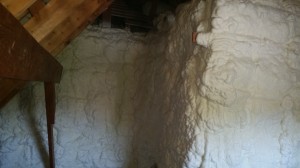 Bonus rooms are also known to be uncomfortably cold. They typically are an area that is not insulated properly (even in new homes). Spray foam on the backside of the knee walls can make a big difference on comfort in your home. You can learn more about bonus room insulation from a blog from our sister company, Iowa Spray Foam.
Basements are often overlooked as well when it comes to insulation. Many people mistakenly think that basements don't need insulation. Closed cell spray foam insulation is a great product for basement insulation.
Take Action Now
It doesn't take a full-blown energy audit to get a more comfortable home. Simple steps, like insulating crawl spaces, attics, bonus rooms, or basements can help your home stay warm this upcoming winter.
Fight back against the Polar Vortex and high energy costs with KC Spray Foam, your trusted and experienced spray foam insulation contractor. Give us a call for your free insulation audit today!