3 minutes reading time
(568 words)
Crawl Space Insulation Benefits: Air Quality & Savings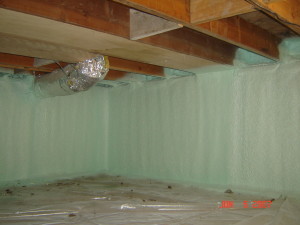 When you think about home insulation, your first thoughts are probably the insulation between your walls, ceiling and attic space. However, if you live in a home with a crawl space, this should be at the top of your list for insulation consideration! When crawl space insulation is properly applied, it will improve the comfort of your home and save you money on energy costs.
Improvements to Indoor Air Quality
Clean Crawls recently named spray foam insulation as the best choice for people sensitive to allergens from other types of insulation. "The average American spends 90% of their time indoors," it noted. "Hence, the condition of indoor air quality should be high on our list of priorities."
While other types of insulation, like fiberglass, cellulose and cotton can worsen allergic reactions and asthma symptoms, spray on insulation can help keep allergens out of your home. If your crawl space insulation is causing you allergy problems, Clean Crawls recommends spray foam insulation as a solution. This will help to reduce moisture, provide insulation and prevent mold growth.
According to GreenBuildingAdvisor.com, "Sealed crawl spaces have less mold and stay dryer than vented crawl spaces – and they often save energy." And in most areas of the U.S., these sealed crawl spaces perform better than vented crawl spaces.
When penetrated with water, crawl spaces become a breeding ground for mold and rot that can contribute to indoor air quality problems, as well as potential structural deterioration. Home Energy magazine notes, "40% or more of the air you breathe in your home originated in your crawl space." This is a good reason to ensure the space is sealed properly to protect your indoor air quality!
Crawl Space Insulation: Savings Start Here
In addition to improving indoor air quality, BuildingScience.com reports that "conditioned crawl spaces perform better than vented crawl spaces in terms of safety, health, comfort durability and energy consumption." Older conventional thought was to vent crawl spaces to get rid of moisture, but this is wrong in all climates. In fact, crawl space insulation can get you good bang for your buck when it comes to improving your home with sprayed insulation. If you have a crawl space, this is the best place to start for energy improvements. The next best space of your home to maximize the benefits of spray on insulation is the attic.
At KC Spray Foam, we recommend spraying the exterior walls of your crawl space instead of the floor underside. This helps keep cold air out of the crawl space, which will help prevent pipes from freezing in winter months. Our crawl space insulation can also keep duct work and HVAC in conditioned space – both key to improving energy efficiency!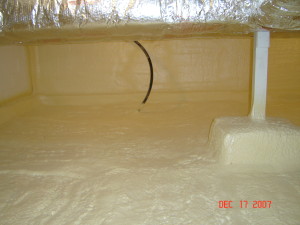 When we approach a crawl space insulation job, we treat it as a "mini basement"/conditioned space. We install 6 mil plastic on the ground to seal to the walls. This helps prevent moisture from getting into the conditioned space. It also keeps other contaminants, like radon gas, from entering your conditioned environment.
For those of you with a crawl space beneath your home, adding sprayed insulation makes sense for you. If you would like to learn more about crawl space insulation, as well as receive a cost estimate and explanation of benefits, call us to schedule a meeting. We have the best products available, along with trained professionals to get the job done right!