4 minutes reading time
(792 words)
Whole Home and House Spray Foam Insulation in Kansas City
KC Spray Foam Has You Covered For All Areas of Your Home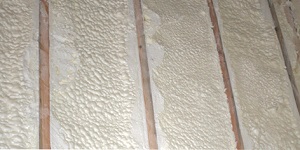 Do you notice a spike in your utility bills? You may need to invest in spray foam insulation by KC Spray Foam. We use the latest insulation products, such as spray polyurethane foam, to enhance your home. Whether it is for new construction or renovation, our spray foam is a great investment because it lowers utility costs by sealing leaks. We can insulate different parts of your Kansas City area home to make your home more energy efficient. Its high R-value seals gaps and holes, making your home comfortable during hot and cold seasons. For high quality spray foam insulation, contact KC Spray Foam. We'll cover the whole areas of your home to protect your investment in Kansas City.
Your walls and attic aren't the only places to add spray foam insulation. Our team of professionals can apply it to many areas of your home, including:
Spray foam insulation is great solution for attics. It can be applied to attic rafter, around light fixtures, wiring, vents and floors. The material offers many benefits, including:
Reduces heating and cooling
Seals gaps and spaces
Reduces outside and inside noise
Creates air barrier to prevent drafts and healthy indoor air
Reduces moisture and humidity
Eliminates drafty spots
Spray foam can insulate basement walls and ceilings. Our experts can quickly cover large areas to seal small cracks. Applying spray foam to basements offer many benefits such as:
Creates air barrier
Prevents moisture vapor from entering the home
Reduces heating and cooling
Reduces sound transmission
Guards against pests and insects
Protects possessions against mold and mildew growth
Insulting ceilings is a cost-effective solution that reduces heat loss in the winter and heat gain during the summer. Ceiling insulation also provides an even temperature distribution throughout the whole home. Ceiling insulation offers the following advantages:
Provides insulation
Creates air ventilation
Ceiling is sealed by patching gaps
Energy efficient
Spray foam insulation is a great choice for crawlspaces. Since crawlspaces are prone to moisture and water intrusion, they can be susceptible to wood rot and foundation issues. Our spray foam can creates a moisture barrier to keep your crawlspace dry and maintain temperature control.
Many garages are used as extra living space. During hot summers and cold winters, it is a great idea to insulate your garage and garage doors to maintain a comfortable temperature. We insulate garages to stop air drafts from small cracks and gaps around windows and doors. With spray foam insulation, your garage will be able to withstand strong winds and gusts.
Types of Spray Foam Available in Kansas City from KC Spray Foam
Spray foam is commonly used today because it offers unlimited benefits for your whole home in the Kansas City area. It is highly preferred over traditional fiberglass. Traditional fiberglass acts like a filter by collecting dirt, instead of eliminating air leaks and improving the air quality. At KC Spray Foam, we offer two types of spray foams: open cell and closed cell. Understanding the benefits of both types of spray foam lets you know that you have the best materials on today's market.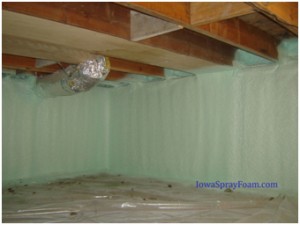 Closed Cell Foam: Closed cell foam is a 2 pound medium density foam with a high R-value. It can be used in narrow spaces. Its rigid texture makes it strong, durable and impact resistant. It consist of a chemical blowing agent called hydroflouro-carbon. The blowing agent is trapped inside the cells to increase the R-value of the foam. Closed cell foam can be used for new construction, remodels, outdoors with a coating, and agricultural buildings.
Resistance to mold
Applied to interior and exterior use
Increases the structural strength
It has a semi-rigid appearance with creates an air barrier
Absorbs sound
Vapor barrier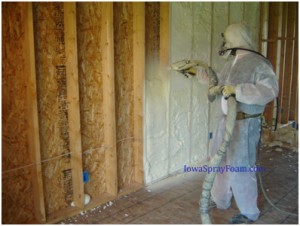 Open Cell Foam: Open cell foam has a soft, spongy texture that seals air throughout the home's structure. Its bi-directional drying properties prevent condensation and mold/mildew growth. It also expands more than closed cell foam, offering better coverage and filling larger areas. The open cell foam consist of water as the blowing agent with a low R-value. Since the cells are open, it traps air inside the cells then insulates the air seal. Our experts can apply open cell foam to commercial settings, new construction, remodels, and all inside applications. Using open cell foam offers unlimited advantages, including:
Insulation
Creates air barrier
Vapor permeable
Able to accommodate seasonal movement and shifting
Mold and mildew resistant
Applied for indoor use
Cost-effective
If you need proper insulation for your Kansas City home, contact KC Spray Foam today. Our insulation covers attics, walls, roofs, garages, basements and more. We serve Kansas and Missouri with all of your insulation needs. Contact us today.