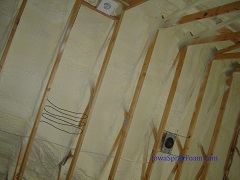 The Benefits of Spray Foam in Kansas City are Endless
Years ago, traditional fiberglass was only available in the insulation industry. Thanks to advancing technology, today many homeowners know have the option of using spray foam over fiberglass. Spray foam has become extremely popular due to its numerous benefits. Unlike fiberglass, spray foam creates an air barrier by sealing cracks and voids. At KC Spray Foam, we offer both closed and open cell spray foam to make your home more energy efficient and reduce your utility bills. Our spray foam can be applied in attics, ceilings, crawlspaces, garages, basements, and more. Our team of experts are trained and certified to determine the best insulation solution for your Kansas City home.
Attic Insulation
If you live in a warm climate, you probably know the struggles of maintaining a cool home. Cooling your home can become expensive. KC Spray offers the perfect solution so you can save money every month. We offer attic insulation by applying spray foam. First, our team of experts will locate any air leakage, then seal them. Common holes are usually found around vents, light fixtures, fans, and air ducts. By sealing voids and cracks, we can preserve air before spray foam installation. We offer both closed and open cell spray foam depending on your insulation needs. Open cell spray traps air inside its foam and creates an airtight seal. Closed cell uses a blowing agent, called hydrofluoro-carbon, to trap the blowing agent in the cells and provide insulation.