3 minutes reading time
(542 words)
Is Spray Foam Right For My Kansas City Home?
Spray Foam in Your Kansas City Home
Insulation is an important part of every home and building. New technology has been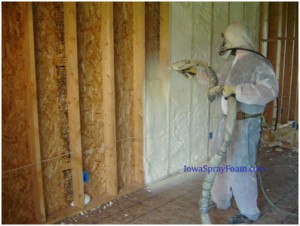 developed over the years to meet the growing demand for energy efficiency. KC Spray Foam has the best products used in the industry along with the experts to do it right. Choosing spray foam for your Kansas City home has many advantages. Our open cell and closed cell foams seal up areas where air gets through and gets into hard to reach irregular areas. These foams do more than what the traditional fiberglass insulation can do. Another advantage to installing spray foam is it will not be a source of food for mold to grow. This will keep the air quality of your home safer for you and your family. Spray foam can prevent pests from entering and nesting in the walls of your home. It won't be damaged by water and won't shrink over time. You will also notice a significant savings on your utility bills using spray foam insulation.
Types of Kansas City Spray Foam
KC Spray Foam uses both open and closed cell spray foams. Open cell spray foam is a semi-rigid 1/2 pound per cubic foot spray foam and is low density. It is designed to be used indoors only. Because the cells are open, it relies on the trapping of the air inside of the foam which then insulates the air seal. The blowing agent in open cell spray foam is water. There are no toxic gases released into the air using this process. This type of spray foam works for new construction, remodels, agricultural buildings and commercial buildings. This type of spray foam is not to be used outdoors.
Closed cell spray foam consists of a medium density which uses a hydroflouro-carbon as its blowing agent. It can be used indoors and outdoors. The closed cell spray foam is rigid and is 2 pound foam per cubic foot. The blowing agent is trapped inside the closed cells which increases the R-value of the foam.
KC Spray Foam uses the best products available, such as Sealection500 and Heatlok Soy200. Sealection500 is the open cell spray foam that expands to fill all cracks, gaps and voids. It provides an air barrier in one application. It will not deteriorate over time and will perform in the future as well as it does on the day it was installed. Heatlok Soy200 incorporates renewable oils and recycled plastic bottles in this high performing closed cell insulation. This single application provides air, water and vapor protection to your home.
These products are made by Demilec USA which is the leading manufacturer of spray polyurethane foam insulation in the industry. Because we have teamed up with the leading manufacturer of spray foam products and have the experts to install it, KC Spray Foam is the company to call for all of your spray foam Kansas City needs.
Installing spray foam will save you money, keep exterior moisture from entering your home, create a more comfortable indoor environment and reduce pollutants and allergens.
Count on the experts at KC Spray Foam for your insulation needs. We will be happy to answer any questions and give you an estimate for all of your spray foam Kansas City insulation applications.