4 minutes reading time
(725 words)
The Many Applications for Spray Foam in Kansas City
Where can Spray Foam be Used?
When it comes to insulation, spray foam is quickly becoming a very popular choice. This is because it offers a variety of benefits that other insulation methods cannot. Spray foam is more effective than other methods, both because it covers that area more completely, and because it has a higher R-value (the measure of how well a material resists the transfer of heat and air flow). The spray foam insulation process is also relatively quick and simple, meaning that it is more convenient for many homeowners. KC Spray Foam is the expert on spray foam insulation installation in the Kansas City area.
One of the best ways to save on your heating bill is to have your attic insulated. Spray foam is a great choice for attic insulation, as it can be easily sprayed onto the ceiling or floor of the attic to seal out the cold. If you have a vented attic space, the spray foam can be applied to the floor of the attic, insulating the ceiling below. If your attic is not vented, spray foam is applied directly to the underside of the the roof between the joists, completely insulating the attic from the cold outside.
Why Chose Spray Foam for your Home Insulation?
Spray foam can also be used to insulate your basement. A well insulated basement keeps your entire home warmer and helps cut down on the cost of energy bills. If you live in an area with a cold winter, insulating your basement is an especially useful idea. Spray foam is an excellent choice for basement insulation; it will adhere directly to the concrete walls, sealing out cold air. Because closed cell spray foam creates an airtight seal, it will also prevent moisture problems by keeping out water vapor. This will prevent mold growth, wood rot, rust, and other problems that are often found in basements.
Insulating your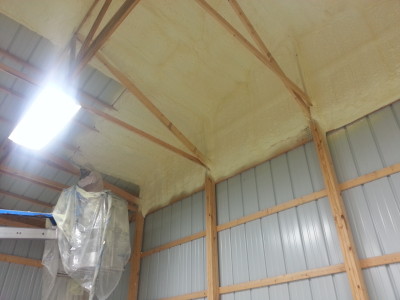 ceiling is a great way to keep your entire home warmer throughout the cold winter months. It will also improve the energy efficiency of your home. When spray foam is used for ceiling insulation, it stops the movement of air, reducing cold drafts. Properly applying spray foam to a ceiling not only keeps you warm in the wintertime, but it can also keep you cool during the warm summer months by reducing the heat that comes in off of the roof.
Keeping your crawlspace well insulated and moisture protected is important to the overall health of your home. A well insulated crawlspace will both improve your comfort and keep your heating and cooling costs much lower. Because moisture problems are common in crawlspaces, it is important to make sure that you take precautions to waterproof your crawlspace as well as investing in quality crawlspace insulation. Closed cell spray foam can not only act as insulation in your crawlspace, but can also act as a barrier against water vapor, reducing the risk of moisture related problems in your crawlspace.
Although it may seem like a strange concept, garage insulation is becoming more and more popular among homeowners. This is because people are starting to expand the use of their garages beyond a storage place for their cars and holiday decorations. Garages are now being used as living spaces, workshops, and more. For this reason, it is becoming necessary for people to insulate their garages. Spray foam is a great choice for garage insulation because it effectively seals out air, regulating the temperature inside. It also reduces moisture infiltration and mold growth. Another benefit to using spray foam to insulate your garage is that it keeps out dust and dirt particles, keeping your garage cleaner with less maintenance.
Who do we Serve with our Spray Foam Services?
We strive to give all of our customers the best. All of these spray foam insulation services are available for those in our wide service area. KC Spray Foam provides premiere spray foam insulation installation services to cities throughout both Kansas and Missouri, including Kansas City (Kansas and Missouri), Shawnee, Overland Park, Olathe, Independence (Kansas and Missouri), Gladstone, Raytown, Northmoor, and Riverside. If you live in one of these cities, and are in need of spray foam insulation services, come to KC Spray Foam. Contact us today for more information about our closed cell and open cell spray foam insulation.