3 minutes reading time
(596 words)
Competent Spray Foam Contractors: Key to a Successful Installation
Choosing a Professional Spray Foam Contractor
As with any building product, improper application can result in a host of problems. If you have done research on spray foam insulation, you might have come across issues related to odor – a potential side effect of contractor error.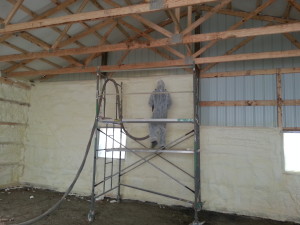 That's why our spray foam contractors are all put through rigorous training. Installers must be properly trained on all aspects of spray in foam insulation, and it's important you hire qualified contractors to ensure your spray insulation is installed right. Remember, you can't believe everything you read on the Internet – Elvis is not alive, and properly installed spray foam insulation will not have odor issues!
Spray foam insulation is produced by mixing two components at a high temperature, which causes the foam to atomize during installation. This process creates an odor and requires venting. Once the foam cures, it no longer produces the odor. According to Icynene, it usually takes about 24 hours for the odor to completely dissipate.
Invest in Spray Foam Contractors You Trust
Knowledgeable spray foam contractors are familiar with manufacture guidelines and procedures, as well as the importance of adhering to these parameters. When a spray foam insulation job results with an off-putting odor, a few things could have gone wrong during application – the materials may not have been mixed appropriately, were sprayed too thick, or the spray foam contractors didn't have proper ventilation at the job site. Many times, manufacturers and home owners note the lack of ventilation as the source of the smelly foam.
Aware of this, most reputable manufacturers will not sell their spray insulation products to untrained contractors. In fact, the Spray Polyurethane Foam Alliance is working hard to implement standardized training for spray foam contractors. While hiring a well-trained spray foam contractor might be more expensive than using someone who installs spray in foam insulation on the side, or trying to do it yourself, you will get what you pay for. Part of what you are paying for with an expert spray foam contractor is the knowledge and experience they bring to the job. With an experienced installer, you have peace of mind that your job will be done right the first time. Spray foam really is not a do-it-yourself product. Each application is different and will require different ventilation techniques. This is an area where you will get your money's worth from a reputable, trained contractor.
Know What to Expect
If you have questions related to smell or other concerns about how spray in foam might work for your application, ask your contractor. Their ability to provide you with project-specific details and application knowledge are good indicators if they have the experience to do the job well. We have been in business since 2006, and in this time have only had one issue with odor that was quickly resolved.
It is important to note that since spray foam makes a house tight, some issues may become more noticeable because the spray foam will not let the house leak existing odors, like mold or rodent feces. If you have issues like these in your home, address them prior to your spray foam installation to avoid related smells.
Many products used in building have some type of distinct smell – from paint to stain, or even lumber and drywall. Eventually these smells fade, just like the initial smell from spray foam installation will. We would be happy to discuss with you in more detail at your convenience and to review your potential job needs. Call us anytime at (913) 440-9123!