3 minutes reading time
(517 words)
Why Spray Foam is NOT a DIY Job
Spray Foam Kits Kansas City
Spray on insulation Kansas City may seem like a simple task - it simply involves spraying foam onto the surface in your home that is in need of insulation. But it is really much more complicated than it first appears. Properly installing spray foam is a subtle and complex process that is best left to the professionals. It requires both professional experience and equipment. If not done correctly, spray on insulation could lead to more trouble than profit. Because it is such a tough, efficient substance, spray foam is quite a hassle when it is not applied properly. KC Spray Foam has the experience necessary to make sure your home is adequately insulated.
Spray On Insulation Kansas City is a Job for the Professionals
Some spray foam kits Kansas City suggest that spray on insulation can be done by anyone. The truth is, installing spray foam insulation is an intensive procedure. Because the spray foam is very sticky, you need to wear full body protection; coveralls with a hood, a facemask, gloves and eye protection. It also takes lots of practice to apply the spray foam evenly. The job also must be done without interruption, since any pause longer than 30 seconds will most likely clog the nozzle and require a new one to be put on when using do-it-yourself kits.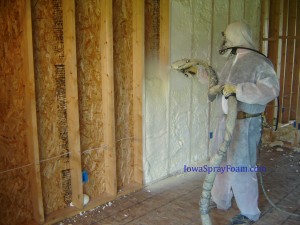 The key to correct spray foam insulation is both temperature and moisture control. Someone who is not experienced in the spray on insulation process may not be able to effectively apply the spray foam without leaving any gaps or cracks. If gaps are left in the spray foam, they could allow moisture to collect in the walls of your home. This moisture may cause mold growth or the weakening of structural materials. Another problem that may arise from poorly installed spray foam is poor air circulation, meaning your home will not be efficiently insulated.
Any areas you do not wish to be insulated, such as the floor, or adjacent walls, must be completely covered so the spray foam does not end up on unwanted surfaces. If the spray foam does touch the floor or walls, it should be wiped off immediately, as it is very difficult to remove once dry. The professionally trained team at KC Spray Foam is able to install the spray foam insulation efficiently and neatly so only minimal cleanup is necessary.
KC Spray Foam employees go through an industry-leading, in-house training program. This means they are educated in product knowledge, advance application techniques, building science and safety standards. After employees complete this rigorous training process, they are ready to supply professional services that guarantee the satisfaction of all our customers. We also have the necessary professional equipment and quality products, such as Sealection500 and Heatlok Soy200, to ensure your home gets the best treatment possible.
If you need a part of your home insulated, don't settle for a DIY spray foam Kansas City kit. KC Spray Foam can get the job done right. Contact us today for professional open cell and closed cell spray foam insulation services.