3 minutes reading time
(507 words)
Kansas City Insulation: Ductwork Outside the Thermal Envelope
Why is Insulating your Kansas City Home and Business so Important?
We spend a good deal of time talking about building science. And for good reason. At KC Spray Foam we understand the significant role our Kansas City insulation plays in the function of your home or building. The standalone product itself is important, but equally or more important is how it works with the other systems to optimize performance.
If you're a home or building owner evaluating your current systems, or making decisions about systems as you build, you might have some experience with duct leakage testing. A duct leakage tester is a diagnostic tool used to measure the airtightness of forced air heating, ventilating and air-conditioning (HVAC) ductwork. This is useful knowledge when trying to increase energy conservation.
Here's a link to a great article to learn more about why it is important to keep ducts and equipment in conditioned space. It outlines the need to have ducts and air handlers in conditioned space for high performance in terms of energy, indoor environmental quality and comfort.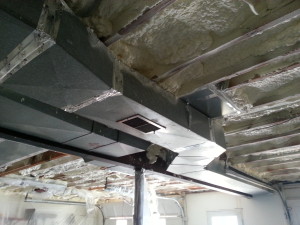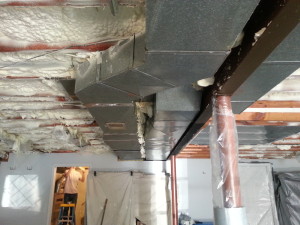 These photos demonstrate how we can correct problems in existing construction with our spray foam insulation. These are from a garage ceiling we recently sprayed where the ductwork was run out into the garage and not insulated. It was also heating the garage, in effect depressurizing the house, which could result in carbon monoxide in the home. Not code compliant.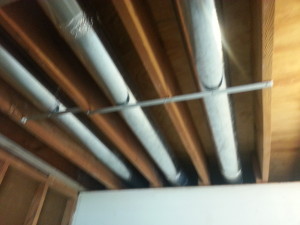 At right is another example of a garage ceiling where the ductwork was installed so low we couldn't insulate below it. If you're building, take note to incorporate HVAC from the design stage to ensure it is in conditioned space. As noted in the article, when it isn't accounted for in design, air handlers and ducts end up in outside walls, garages, vented attics and crawl spaces as a result of poor planning.
As a practical example, the photos below are from a new house we are bidding on. In this case, the ductwork runs are in the common wall between the home and the garage, leaving no room for us to insulate the wall. This means there's about a 4' x 10' section of wall that would not have any insulation.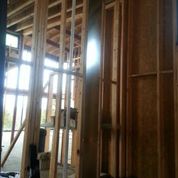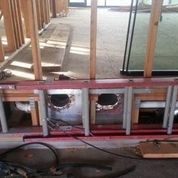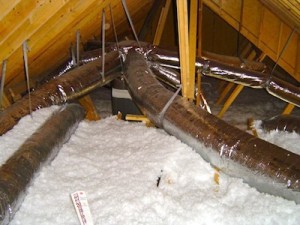 In this example you see ductwork and furnace in the attic. In climate zone 4 we need R-49, but the ductwork is only required to be R-6. Running ductwork outside of the thermal envelope is like taking a shower and then running around the outside of your home to get a towel. It puts the heated air into an unheated environment and then back in. It just doesn't make sense to insulate ductwork in an attic to only R-6 but the attic to R-49.
We hope information like this is helpful as you strive to optimize your home/building's efficiency. But we also know it can be complicated. Feel free to contact us any time; we are happy to share our experience and to help you evaluate options that will impact your energy efficiency for years to come!