3 minutes reading time
(657 words)
How Much Better Is Spray Foam for a Kansas City Winter?
Why is Spray Foam Better?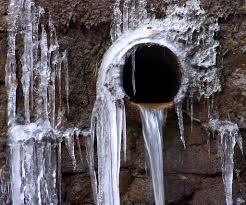 Although the weather in Kansas is generally fairly mild, Kansas City winters can be brutally cold. For this reason, it is important for your to make sure that your home is adequately prepared for winter weather. The best way to keep your family warm and cozy this winter is to see that your home has sufficient insulation, especially if you live in an older home, as older homes can lack proper insulation. If you are experiencing draftiness in your home, or if your furnace is having a difficult time keeping your home warm, consider investing in spray foam insulation services from KC Spray Foam. We provide Kansas City residents with quality insulation services.
Why choose spray foam, you ask? Spray foam offers a variety of advantages that most traditional methods of insulation lack. When done correctly, spray foam insulation can help regulate the temperature in your home and make your home more energy efficient. Some of the benefits of choosing spray foam insulation include:
Effectiveness: Because it completely covers the surface being sprayed and it can effectively fill all the little nooks and crannies in your home, spray foam is better at trapping out cold air than traditional fiberglass insulation, which only serves as a semi-solid protective barrier between the outside air and your home's interior.
Ease of Installation: Spray foam is, as the name suggests, sprayed into place using a pressurized spray gun. This means that it is easy to install in nearly any location.
Safety Value: Our spray foam formula is specially designed so that it will not be a food source for mold, preventing poor air quality problems in your home. Spray foam also acts as a protection against pests, keeping your home safe and healthy.
Resiliency: The tough foam material that we use is strong enough to hold up without deterioration for years to come. It is also water resistant, and will not shrink or settle due to moisture.
Energy Efficiency: Because it keeps the outside temperature from affecting the air inside your home, spray foam increases the energy efficiency in your home; your heating and cooling systems don't have to work as hard, and you save money on your utility bills.
Types of Spray Foam Insulation for Kansas City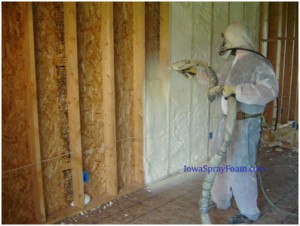 There are two types of spray foam that we commonly use to insulate homes in the Kansas City area. The first is called open cell spray foam. Open cell spray foam is a semi-rigid foam with a rather low density. It is designed to be used indoors only. The extreme expanding nature of open cell spray foam makes it a great solution for big insulation projects in your home; when sprayed, open cell spray foam expands to around 120 times its original size. It is a great solution for above grade projects that need insulating, and acts as both an air seal and a sound barrier.
The other type of spray foam insulation that we offer is called closed cell spray foam, with a much higher density than open cell, closed cell spray foam is a strong and effective insulation choice. Closed cell spray foam works as an air seal both indoors and outdoors with a coating. Though it expands less than open cell (30-40 times its original size), closed cell is a great solution for new construction, remodels, agricultural buildings, and industrial settings.
Spray foam is an excellent choice for all of your insulation needs in the Kansas City area. If your are struggling to regulate the temperature in your home, contact us here at KC Spray Foam today. whether you need your walls or your attic insulated, we will take care of it. The KC Spray Foam team can work with you to find a solution that fits both the needs of your home and your budget. Our professionally trained team of experts will ensure that your home is as snug and energy efficient as possible.