4 minutes reading time
(722 words)
Now is the Time to Insulate your Kansas City Home
As Temperatures Drop Insulation is the Answer
As the winter sets in and the days and nights get colder, if your home is not properly insulated, you will not only be more uncomfortable in your cold home, but you will be letting expensive heat seep out, costing you money. Kansas City has some very cold winder days. Making sure you have the proper insulation in your home is important. It will save you money and keep you warm on those cold Kansas City winter days. The professionals at KC Spray Foam can help you by installing our spray foam insulation in your home.
Spray foam insulation has many advantages and is the future of insulation. The advantages are financial savings, health, building efficiency and a greener environment. Spray foam expands and seals every void, keeping any air from getting through.
Different Kinds of Insulation for Kansas City
KC Spray Foam offers both open cell and closed cell spray foams. These two types of foams are similar in their chemical structure, but their capabilities differ in many ways which makes it necessary for the use to understand the difference and determine which is the right foam to use for their situation.
Open cell spray foam insulation is semi-rigid and is half pound per cubic foot and is low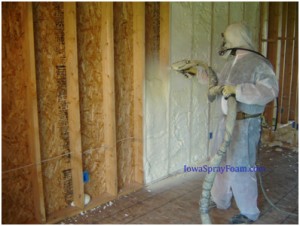 density. The greater the density the stronger insulation is will become. The open cell foam has an R-Value of approximately 3.5 to 4.5 per inch (R-Value measure the thermal resistance). Because 0.5lb foam is significantly less material than 2lb foam products, the cost is of the project is much cheaper. This open cell spray foam is to be used indoors only where is cannot be in direct contact with water. Open cell spray foam's blowing agent is water. There are no toxic gases used in this process.
When this open spray foam insulation is sprayed, it expands about 120 times itself and is a two part liquid. It cures within seconds. Open cell insulation spray foam is very effective as a sound barrier, having twice the sound resistance than closed-cell insulation spray foam. Another advantage of open cell spray foam is it has a softer appearance, as well as lower strength and rigidity.
Closed cell spray foam insulation is one of the most efficient insulating materials available,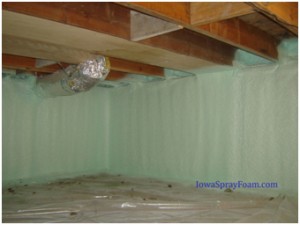 with R-Values around 6 to 7 per inch. The closed cell insulation is rigid and is 2 pound foam per cubic foot. The blowing agent is hydroflourocarbon. This blowing agent is trapped inside the closed cells which increases the R-Value. When this closed cell form insulation is sprayed, the two part liquid expands about 30 to 40 times itself. It also cures within seconds.
Closed cell foam insulation is extremely durable and expands and adheres to surfaces, strengthening the structure of the home. It can be installed in areas that would be difficult to install other forms of insulation. This closed cell foam insulation isolates moisture and reduces the chance of mold or mildew from forming.
At KC Spray Foam, we use the best products available. Sealection 500 is made by Demilec USA, the industry leading manufacturer of spray polyurethane foam insulation. Sealection 500 is an open cell spray foam insulation that expands to fill all gaps and voids to provide insulation in one application. It will not deteriorate, decompose, sag or settle. For years to come it will deliver the same performance as the day it is installed.
Heatlok Soy 200 Plus, also made by Demilec USA, combines multiple layers into a single application, saving time and money. One single application provides an air barrier, insulation, water barrier, vapor barrier and drain plane. This application also improves your home's structure. The unique formula incorporates renewable oils and recycled plastic bottles in the creation of this closed cell form insulation.
Anytime is a good time to get your home's insulation taken care of, but especially now when the Kansas City winter is upon us. Don't lose heat and energy any longer. Make your home cozy and energy efficient by installing KC Spray Foam insulation. Our experts are trained with an industry leading in-house training program. Don't hesitate to call and let us give you the answers to all of your spray foam insulation questions. We will offer you the best solutions for your insulation needs. Contact us today!