3 minutes reading time
(555 words)
Insulating Your Metal Buildings - Spray Foam Is The Answer
Insulating Metal Buildings Using Spray Foam
Spray foam polyurethane can provide excellent insulation and weatherproofing for metal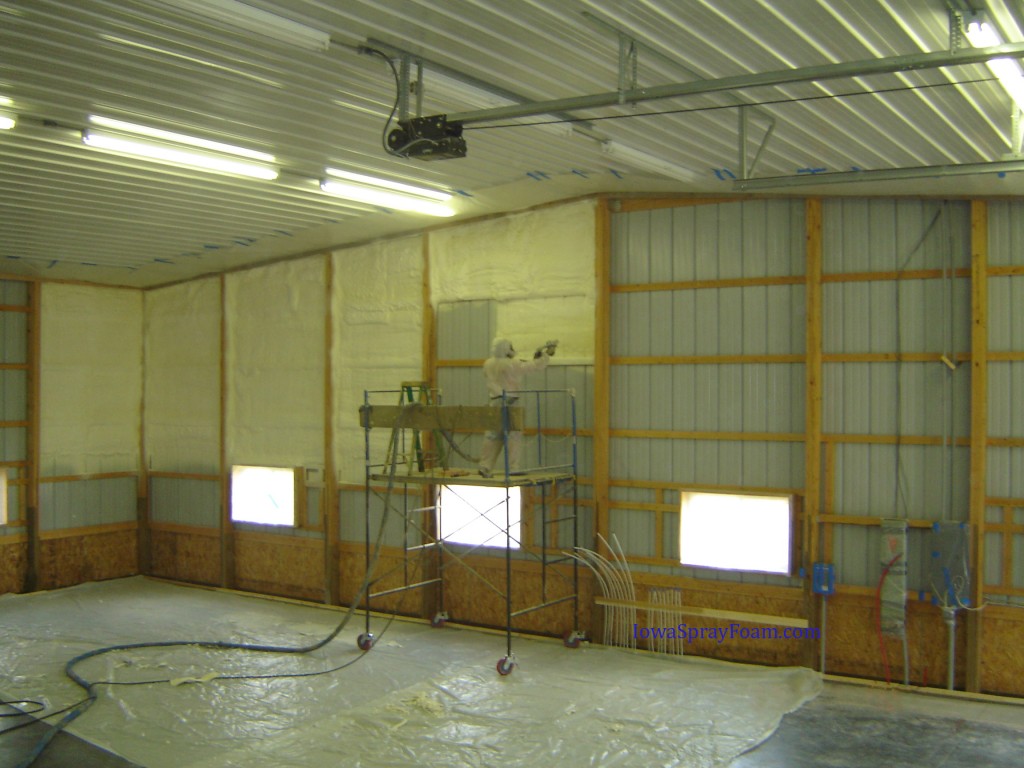 buildings. This type of spray foam forms an integral bond with metal building surfaces and conforms to irregular surface and provides an effective air seal. Spray foam can be applied to both the interior and exterior of metal buildings. This is the best method of insulating a metal building. The traditional fiberglas is not capable of providing a complete air seal or vapor barrier. During humid weather, metal buildings sweat. The moisture will damage the building and can create mold and mildew behind fiberglas insulation. For your metal building spray foam needs, contact KC Spray Foam.
The team at KC Spray Foam has the experience and products needed to insulate your metal buildings. Making sure the right method is used for insulating metal buildings is important. These buildings are susceptible to condensation created by outside temperatures. Sealection 500 and Heatlok Soy200 are ideal products to insulate metal buildings. These products are made by Demilec, the leading manufacturer of spray foam insulation.
Spray Foam for Your Metal Buildings
KC Spray Foam employees go through an industry leading in-house training program. They have the product knowledge and application techniques, including those needed to insulating metal buildings. The advantages in using spray foam insulation are many. It provides a seamless air barrier, restricts moisture transmission, adds structural strength, does not shrink or settle and has a higher insulation R-value.
We use both open cell foam and closed cell foam. Open cell foam is a semi-rigid .5 pound per cubic foot and is low density. This is a water based foam designed to be used indoors only. Since the cells are open, it relies on trapping the air inside the foam then insulates the air seal. This type of foam works well for any of your metal building needs.
Closed cell foam is a medium density foam that uses a hydroflouro-carbon as a blowing agent. This closed cell foam is rigid and is 2 pound foam per cubic foot. This process traps the blowing agent inside which helps increase the R-value of the foam. When the foam is sprayed, the two part liquid expands about 30 to 40 times itself in just a matter of seconds. This type of foam works well on both indoor and outdoor applications.
KC Spray Foam takes pride the work we do. The skill of applying spray foam is learned through experience and training. This is especially important when insulating metal buildings. Because on some metal buildings the foam stays exposed, it needs to look pleasing. Also, if it is going to be painted, it needs to be smooth. We will make sure the foam on your metal building is uniform and smooth and we use the best products for achieving this.
Not all spray foam applicators are experienced with applying spray foam insulation to metal buildings. Don't leave the work to just anyone; trust the KC Spray Foam professionals to do the quality work that comes with training and experience. Along with these professionals and using the best products available, your metal building spay foam insulation will last for years and you will have the satisfaction knowing your metal building is the best it can be! Contact us today for all of your metal building spray foam insulation needs.