2 minutes reading time
(405 words)
Roof Coatings Can Keep your Home or Business Cool This Summer in Kansas City
What is a Roof Coating?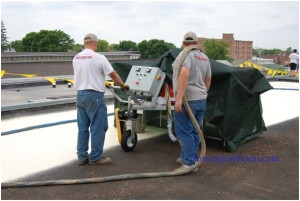 Do you have a leaky roof? A leaky roof can be expensive to repair especially if you have water damage. Beyond that, it also produces hazardous conditions such as injuries and health related issues due to mold exposure. At KC Spray Foam, we offer roofing coating services for the residents in Kansas City. Roof coatings can seal leaks and create a barrier against moisture and water. It also insulates homes by keeping your attic cool during hot summers, and warm during cold winters.
Roof coating, offered by KC Spray Foam, consists of spray applied polyurea roof coating and a closed cell roofing spray foam. Both products can be used on flat or sloped commercial roofs.
So what is polyurea? Polyurea is a very strong material used to seal joints, seams, and roof penetrations. Similar to the spray on bed liners on pickups, it has tensile strength and durability with waterproofing capabilities. Our roof coatings are used to provide a great protective coating and extend the life of your roof in Kansas City. They protect your home from sun and weather conditions. Roof coating can range in thickness from 20 dft mils to over 40 dft mils.
Because roof coating is the most preferred, it was used to repair the Super Dome roof in New Orleans. In 2005 after Hurricane Katrina, the architects requested a weather resistant roof to withstand damaging winds and all types of weather conditions. Roof coating is the perfect solution for roof protection because it can be used for all types of roofs. After application, it seals water less than 30 seconds and conforms to the shape of the roof while filling in low spots of the roof.
How can Roof Coating help your Kansas City Home or Business?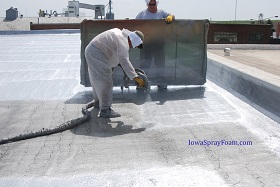 If you have water leaks, roof coating can be beneficial to your home or business in Kansas City. It offers the following advantages:
Environmentally friendly
Waterproof
Seals cracks
Can be applied in high humidity and varying temperatures
Rapid cure
Contains little to no odor
Resist to abrasion
Durable finish
Lightweight
Energy efficient
Guards the foam against UV degradation
Prevents water leaks
Strong adhesion
Insulation
Cost effective
Fills in gaps and cracks
If you need roof coating, we can save you money. Contact KC Spray Foam today. We serve Kansas and Missouri with quality, professional roof coating solutions. Contact us today so we can help protect your home or business!