3 minutes reading time
(603 words)
Roof Coatings Kansas City: Storm Damage & SPF
This is the busiest season for our roof coatings Kansas City business. Take a few minutes to watch the video above to see some of the practical benefits of a spray foam coated roof. While the Honeywell job featured was performed by another contractor in California, it does a good job demonstrating the benefits these systems provide.
Commercial roof issues are often brought to light this time of year when leaks present as a result of storm damage. It's worth noting that in addition to serving as good choices for commercial roof repair needs, our spray applied polyurea roof coating and closed cell roofing spray foam can perform well to protect your roof from future storm damage.
One way to safeguard your structure as sound is to calculate the wind load to ensure it can withstand high winds. While it can be difficult to predict, this important analysis should be a part of your building process.
Weathering the Storm
As a general rule, spray foam coated roofs perform well during storms. This is in part because the material reacts and expands in place to form a firmly adhered, rigid, seamless mass of closed-cell foam. This is not to say a spray foam roof cannot sustain damage – but rather that they are resistant to high winds, protect the substrate against damage from hail and wind-driven missiles and are renewable. It is important to understand, or work with a contractor who has adequate training, how to identify when a SPF roof has sustained damaged that requires attention.
Inspect ASAP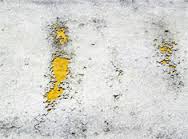 Examine your roof as soon as it is safe to do so, says Chip Ward president of AP Ward Consulting. Acting quickly should improve your chances of working with a local contractor. "You have a better shot of being at the front of the line."
Your inspection might include a visual inspection (looking for blisters, flashing/termination points, pinholes, ponded water, substrate/structural damage), as well as a physical inspection (moisture survey, SPF probe for thickness, slit samples). Again, you need to rely on a trained professional to evaluate your roofing system for damage. They should have the knowledge to recognize the type of damage and be able to recommend appropriate repair.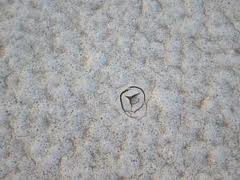 Depending on the extent of the storm damage, the integrity of the building may be compromised – a potentially dangerous situation, best left to professionals to review and address.
During the inspection, your contractor should also listen for a crunching sound as they walk the roof. This can indicate the roof was lifted during the storm and is re-settling as it is walked on. This requires additional review.
Recoating and Renewal
In the event your SPF roof has damage that needs to be repaired, it might be recommended to add a new coating layer to renew the weather surface and enhance durability and longevity of the system. In this situation, it's not necessary to remove the existing SPF system. The images in this slideshow give good examples of SPF assessment and issues a contractor should be looking for, as well as repair steps that might be needed.
Residential Benefits
Likewise, your roof plays a key role in the protection of your home during severe weather. If it fails, the risk of additional structural failure increases. Using closed-cell spray room insulation as an adhesive may increase the wind uplift resistance of your roof. See the Honeywell chart for more residential benefits below: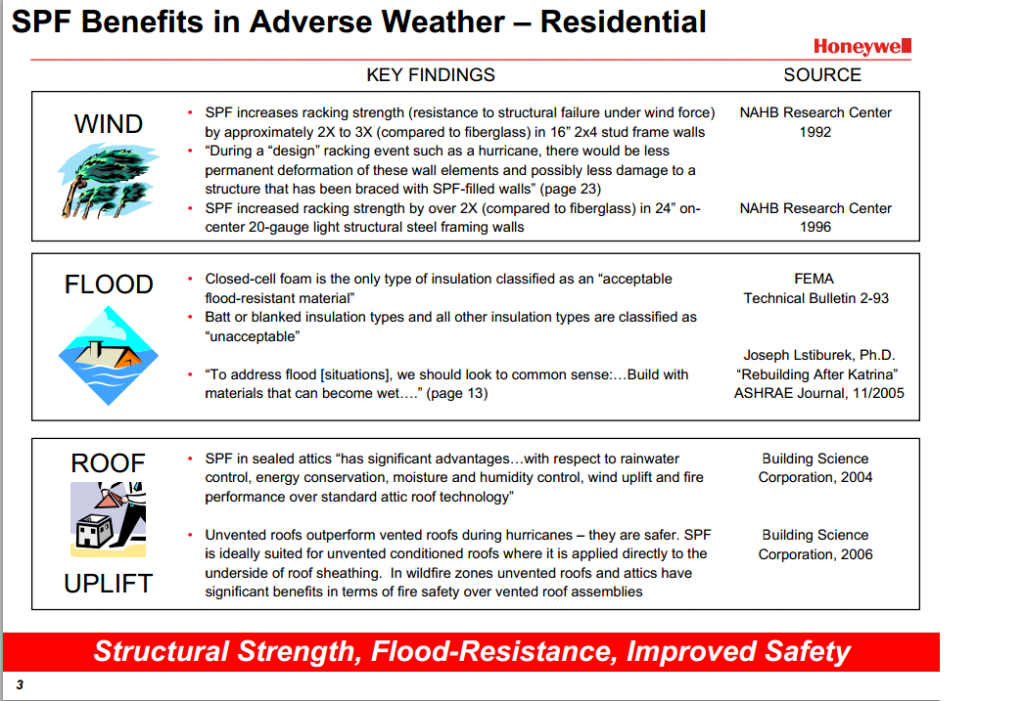 At KC Spray Foam, we have commercial and residential experience to address your roofing needs. We would welcome the opportunity to meet with you to discuss how our products and services can benefit you!