3 minutes reading time
(664 words)
Benefits of Commercial Roof Coatings in Kansas City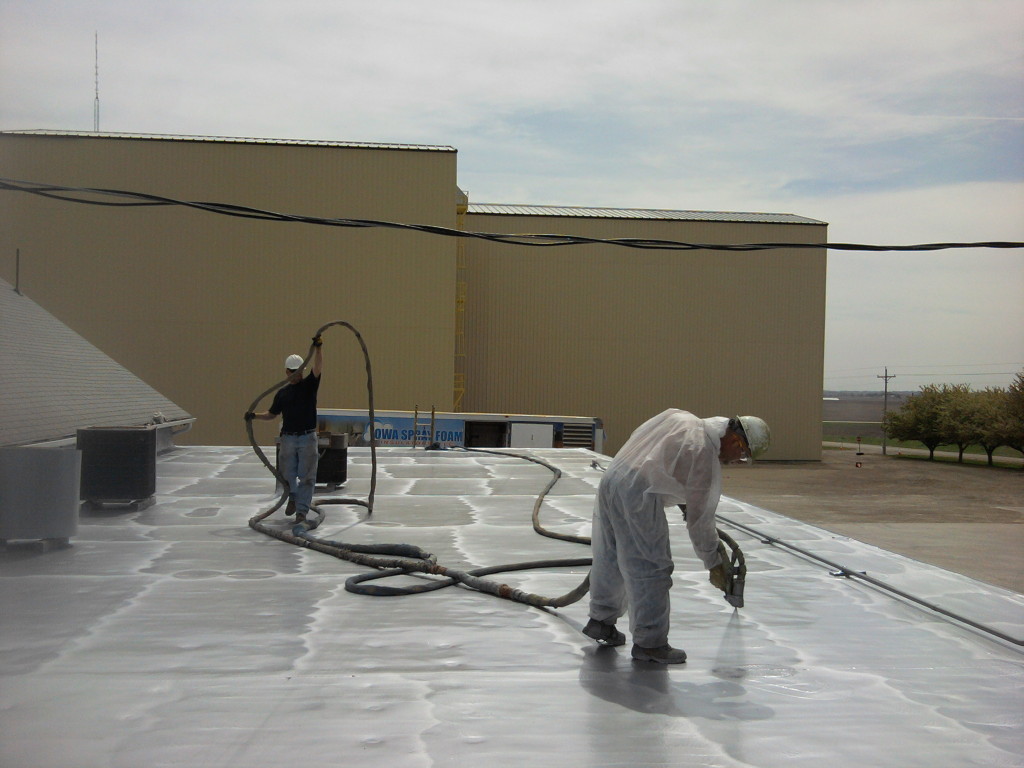 Repairing or replacing a commercial roof can be very expensive. If you're facing repair or replacement, consider the benefits commercial roof coatings can provide for your application first. You'll likely find you can save 50% or more and will end up with a better roof!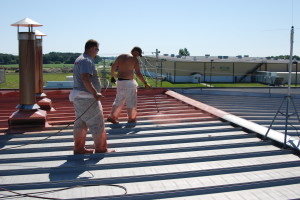 At KC Spray Foam, we offer two types of roof coatings – a spray applied polyurea roof coating and a closed cell roofing spray foam. Both products work well on flat or sloped commercial roofs. We use products from Volatile Free, Inc., the original manufacturer of Polyurea Hybrid Aluminum Elastomer Roof Coatings. Its VFI-730 Spray Foam and VFI-540 Spray Polyurea Hybrid Aluminum Elastomer Roof Coating form a superior, advanced monolithic roofing system that will encapsulate and protect your roof better than other roofing systems.
There is usually no need to remove the existing roof, which saves you labor expense, and only one coat of VFI-540 is required to achieve the same final thickness as two or three coats of other products – another cost savings in terms of product amount and labor.
Our roof coatings are self-flashing and greatly reduce or eliminate parapet, stack, vent and pitch pocket leaks. The coatings seal cracks and crevices with its elastomer properties.
Polyurea vs. Acrylics
To give you an idea of the strength of polyurea, think about truck bed liners or floor coatings. Polyurea is an industrial grade coating used for these applications. This is tough stuff – it has 1,700 pound per square inch tensile strength and a 300% elongation rate!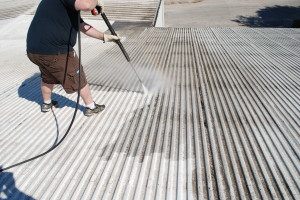 When comparing the application process of these two materials, both systems should start with the same prep – pressure washing and making a tight substrate. The difference is in the actual application. The acrylic has very little strength (250-300 psi tensile) compared to VFI-540's 1,725 psi! This means the acrylic depends on caulk, tape or scrim embedded in the coating applied over the seams and fasteners.
Imagine a roofing crew starting in the morning with thousands of fasteners to seal. By mid-day, you're lucky if they have covered 70% of them. Additionally, the tapes and scrims can add to the problem if not applied properly in a smooth fashion. This extra prep for an acrylic system is very labor intensive. Because 540 is strong, it can be sprayed thick to encapsulate the seams and fasteners – greatly reducing the labor involved.
An acrylic system also has to be applied in separate coats because it can't be sprayed too thick. This means the roof must be coated multiple times, over multiple days and you will still end up with less dry films on the roof. When we spray your roof with 540, we are able to apply it in one coat. This results in about half the labor cost for you.
You Get What You Pay For
At KC Spray Foam, we have invested in the proper equipment and the best products to do the job right the first time. If you think about acrylic as a glorified latex paint, it could be said that anyone could rent an airless sprayer and call themselves a roofer. However, we use more than $125K of professional equipment on our commercial roof coatings Kansa City installations. We are committed polyurea professionals you can trust.
When you compare acrylic against polyurea, the acrylic cost will be lower; however, this is a scenario where you will really get what you pay for. The product cost for acrylic is probably about half the cost of polyurea, but the labor to install it will be much higher. You also need to factor in the strength and durability of the finished product.
Call on Us for Roof Coatings Kansas City
Call us today for a demo to see first-hand how our products work and will benefit your roof. We look forward to working with you to protect your investment in your building and helping to save you money in the process! Consider our commercial roof coatings in Kansas City.