3 minutes reading time
(529 words)
Insulating Tanks with Spray Foam Insulation
Insulating Tanks with Spray Foam Insulation
Spray foam insulation is a great way to insulate tanks of all types. This includes petroleum and oil field tanks, Frac tanks, water tanks, chemical tanks, agricultural and ethanol tanks, propane tanks, anhydrous tanks, and wine tanks just to name a few. There are even more industrial applications that are not listed here.
One of the advantages of spray foam insulation is that it conforms not only to the typical round shape of tanks, but of many other unique shapes as well.
from Honeywell illustrates why spray foam is a great choice when insulating tanks.
Benefits of Insulating with Spray Foam Insulation
There are many reasons to insulate tanks. Insulating tanks allows for the materials within to stay at a higher temperature, it raises viscosity, and even allows whatever is inside the tank to flow easier. Insulation also keeps the materials inside the tank from freezing during the cold winter months, but also keeps the material colder when necessary. This can allow for higher boiling points for materials like propane.
The cost of energy is rising which makes heating tanks an expensive task. Propane reached a record high last year of over $4 per gallon in some areas. This affects farmers and buyers, as detailed here.
And to make things worse, Fox News has predicted that this winter will be even colder than last year's "Polar Vortex." With the rising cost of energy and an especially cold winter approaching rapidly, spray foam insulation is the answer to your problem.
The Specifics
Before the insulation and coating can even be applied, the majority of tanks need to be properly cleaned. The preferred method of doing so requires high pressure, high volume power washing. In some cases, special cleansers and degreasers are needed. Proper cleaning, as shown here, allows for proper adhesion of the spray foam insulation or coating.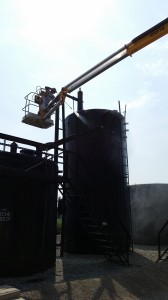 Closed cell spray foam insulation is recommended to insulate storage tanks. It can provide a high R-Value and tensile strength up to 30 psi. To learn more about closed cell spray foam, you can visit our closed cell spray foam insulation informational page here. Pictured below is the application of closed cell spray foam to a tank.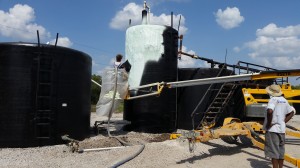 Gunbarrrel oil separator tanks need to be heated to aid in the separation process. Many types of coatings can be applied to these tanks, as well as closed cell spray foam insulation. Polyureas, silicons, and acrylics all can be used on tanks. On this specific tank pictured below, we used Demilec's Maxguard 216 polyurea coating. The Maxguard 216 is a polyurea coating that is durable and has a 3000 psi tensile strength, doubled with an elongation rate of 80-90%. This polyurea coating is typically used as a spray in pickup bed as a liner. Used in combination with closed cell spray foam insulation, the surface is not only durable, but long lasting.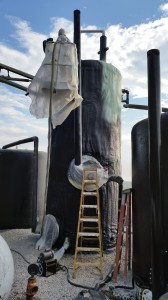 Coatings can be used in a many different applications, including primary and secondary membranes. These links here provide different materials and applications:
https://volatilefree.com/all-products/
http://versaflex.com/products/industrial/vf-380-aromatic-spray-polyurea/
Deciding which products to use when insulating tanks is a difficult task. Let us at KC Spray Foam assist you in this process.