2 minutes reading time
(427 words)
Foam Insulation NOW can Save You Money This Winter
How can Spray Foam in Your Kansas City Home Save you Big Money
A poorly insulated home makes heating and cooling a home even costlier. Older home are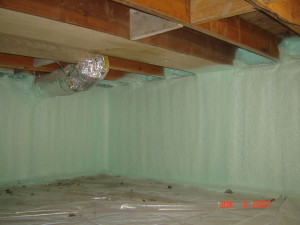 especially likely to be insulated with outdated, under-performing insulation. With the properinsulation, you can save hundred of dollars in energy costs.
Spray foam insulation has an ability than other types of insulation lacks - the ability to seal out air. Foam insulation has the highest R-value that all of the common insulation types on the market today. The R-value of a product refers to its ability to reduce heat transfer. The more efficient the insulation, the higher the R-value. Some of the other advantages of spray foam are:
Easier to insulate around obstructions
Spray foam is free of dangerous chemicals
Reduces home electricity up to 50%
Prevent mold growth
Makes the walls of your home stronger
Higher resale value
Spray foam lasts the lifetime of your home.
The installation of a high rated insulation product such as spray foam can create a costs savings difference over a lower rated product. KC Spray Foam offers cost saving spray foam insulation for your Kansas City home or business. When foam insulation is sprayed into your home, it creates an airtight seal, saving you money. Get your home insulated today with KC Spray Foam to save you money this winter. We have the products and experience to get your spray foam insulation done now before the harsh Kansas City winters come back.
Uses for Spray Foam in your Kansas City Home or Business
KC Spray Foam can use spray foam for many uses that will end up saving you money. These include:
Basement insulation
Metal roof spray foam insulation
No matter what your insulation needs are, the experts at KC Spray Foam can install spray foam that will save you money and keep your home insulated for its lifetime. You won't have to install insulation again.
We are an Olathe, Kansas based company that is a sister company to Iowa Spray Foam Insulators, LLC, a nationally known company. Our employees are trained by a leading in-house training program. With this program, they are educated in product knowledge, advance application techniques, building science and safety standards. After completion of this program, our employees provide the customers with a highly skilled professional.
For any of your insulation needs, contact the professionals at KC Spray Foam. We can safe you money with our spray foam insulation. Contact ustoday!