3 minutes reading time
(662 words)
Before You Build: Meeting 2012 IECC Code
You're building a new home, you say? So of course you have a check list: a general contractor, a sub-contractor, an architect, a banker, a lot picked out… but wait! You are overlooking something very crucial. Has your soon-to-be home passed the 2012 International Energy Conservation Code? I am sure some people would automatically assume a new home would pass but it is not guaranteed.
Passing the 2012 IECC Code
There are two ways you can go about passing the 2012 IECC code: the performance path or the prescriptive path. The prescriptive path is relatively easy to follow; you can use the Table R402.1.1 and use proper R-values. BY using this method you automatically pass. However, it's not that easy: there are many problems with the prescriptive path. This particular path is a "one-size fits all" type method and it overcompensates based solely on R-values.
The performance path uses software based off of real-world performance of materials and equipment to meet a predetermined amount of energy consumption. There are many different software options out on the market, like RemRate, REScheck, or COMcheck. It is important to note that only some of these programs are free.
While I could go into great detail on how to utilize these various software properly, it is likely that you will get the most benefit out of them by hiring a professional to do this for you. If you are really interested in learning how to use the software on your own, this is a great video to watch:
https:////www.youtube.com/watch?v=uvSIEqNFBuA
When I refer to hiring a professional, I am referencing a certified HERs rater. HERs raters can perform a rating on your plans before you even submit them for approval to get your building permits. Ratings can be performed from the house plans allowing you to make changes. These changes can be very small that allow you to pass the 2012 IECC Code and build a more comfortable home that is less expensive to build.
Small Software Changes Yield Great Results
Raters, like certified HERs raters, utilize RemRate and other software to make small changes in building plans yielding great results. The software takes into account things such as the heating and cooling equipment, lighting types, appliances, window types and sizes, colors of the building, shading, overhangs, wall to window ratios, and of course insulation types, styles, and levels. I could put you to sleep describing in great detail all that goes into the software but I won't.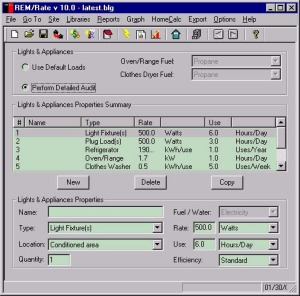 The real magic in this process happens after the initial home plan is entered into the software. Once entered, just a few clicks of the mouse can demonstrate how small changes in window size or insulation level can affect the outcome of passing the IECC code. A skilled rater can suggest simple changes and give you accurate predictions of energy use and expenses in seconds.
Following the performance path allows you to make tradeoffs such as a larger window vs increased insulation levels or using Geothermal heating to meet the code. So what does this mean for Spray Foam Insulation? If we follow the prescriptive path, in most cases we would have to install an R-49 attic spray foam insulation which equates to about 13 inches of open cell spray foam or 7 inches of closed cell spray foam. While we can do this, we would scare you half to death with the cost. As have been written in past blogs and proven in the heat condition charts, once we reach 6 inches open cell or 2-3 inches of closed cell we have stopped about 95% of the heat loss in a particular building. In conjunction with the software, a good Rater and a good spray foam insulation contractor, you will easily meet the 2012 IECC code.
Following the performance path, we can provide a warm, comfortable, and efficient home at a lower cost. Give us a call to learn more on how to meet the 2012 IECC code.