3 minutes reading time
(511 words)
Why KC Spray Foam over a Spray Foam Kit?
Why is Professional Spray Foam better than a Spray Foam Kit for your Kansas City home?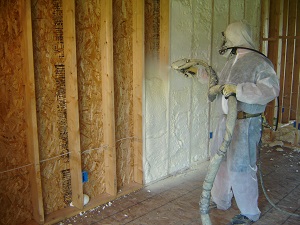 When it comes to home insulation, spray foam insulation is definitely the best choice. Spray foam seals out air and moisture, keeping your home well insulated in both the cold months and the warmer months. Spray foam insulation will also help strengthen your home and prevent mold growth, which can cause serious health issues for you and your family. Spray foam insulation, however, is a job that is best left to the professionals. If you are in need of spray foam insulation in your home, do not try to handle it yourself; contact one of the professional insulation installers from KC Spray Foam as soon as possible.
Although there are several DIY spray foam kits available today, it is still best to have a professional spray foam expert install your spray foam insulation. First, spray foam can be very demanding to apply; if the instructions on the DIY kit are not followed exactly, the spray foam may not work properly. While applying spray foam, you cannot take long pauses, as any interruption longer than about 30 seconds will cause the spray foam to clog the spray nozzle, requiring a new one to be put on.
The temperature in the room must also be carefully regulated so that the spray foam is able to expand and adhere to the wall or ceiling. The work area must also be clear, and any surfaces need to be covered, as spray foam can be messy, and is very difficult to clean up. If you are going to use a DIY spray foam kit, it is very important to cover yourself completely in protective garments and gear before using the spray foam. Even if you take all of these precautions, spray foam can still be difficult to apply, especially for amateurs. For these reasons, you should always let the professionals at KC Spray Foam take care of your closed cell and open cell spray foam insulation projects.
Where can you use Spray Foam in your Kansas City home?
There are several benefits to using spray foam to insulate your home vs. traditional insulation methods. Spray foam has a high R-value, meaning that it gives your home the best protection with more thermal resistance than many other insulation materials. This results in great savings for you and much greater energy efficiency throughout your home. This insulation method also helps to reduce mold problems in your home by sealing out moisture. Other benefits include: enhancement of building stability, permanent solution that will not sag, keeps out dust and pollen, and much more.
Spray foam can be used in nearly any area of the home. Some of the most common places to use spray foam insulation include:
If you are in need of spray foam insulation for your home, don't try to do it yourself; contact us today for a quality spray foam insulation solution.